Website : www.deccanchronicle.com
Our Client Deccan Chronicle is the largest circulated English Daily Newspaper in South India.
With the increasing number of people across the world interested in reading News and Analysis, DeccanChronicle.com required a modern technology to support its aging website and CMS design architecture.
Most people now access news websites through their smartphones and therefore it is imperative for any website to be mobile friendly. Unfortunately, DeccanChronicle.com wasn't a mobile friendly website and that kept away many users who wanted to access news on the go. Besides their CMS being outdated, it was difficult for them to keep their website up to date without any delay in getting new content online.
DeccanChronicle.com's server used to stop working if the number of users on the website exceeded 2000. This shooed away many potential users who could have become dedicate users.
The previous vendor of DeccanChronicle.com had charged them in 80% of the project amount but left the work incomplete leaving DeccanChronicle.com in a dire situation.
With a huge task of rebuilding their website and CMS, Daksham was approached by the new Editor-in-Chief of DeccanChronicle.com who envisioned it as one of the leading news websites in India. While the other vendor who left DeccanChronicle saw only peril, we at Daksham saw a huge opportunity to equip DeccanChronicle.com with modern architecture and a design that was not just mobile friendly but also visually appealing. Not only the website, we wanted to equip Deccan Chronicle with state-of-the-art Content Management System that would enable them to easily manage content on their website and drive more traffic and business.
With only a hundred thousand rupees as advance, we promised to deliver the project in a timely manner and charged the rest of the amount only going live in 3 to 4 months.
It was a huge task to build a new stable & scalable CMS as their existing data had to be migrated as-well. We didn't just have to manage the existing editorials but also thousands of galleries with more than 10 photos in each gallery. We had to maintain the URL of more than 2 lac web pages's URL and alias so that the existing SEO was not hurt.
With our team of experts, we successfully created a CMS for DeccanChronicle's website that allowed their editors to update and manage their web site content easily. The CMS made by Daksham didn't require its users to have any technical knowledge or HTML know-how. It was extremely simple to use with a neat UI. The new CMS reduced the time required to publish articles and allowed the editors to get their news content online faster than before.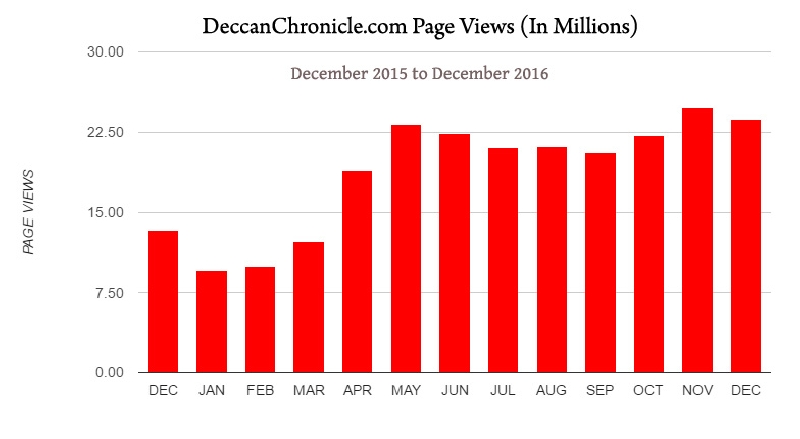 DeccanChronicle.com Saw A Steady Increase In Page Views Since Its Re-Launch With The Help Of Daksham